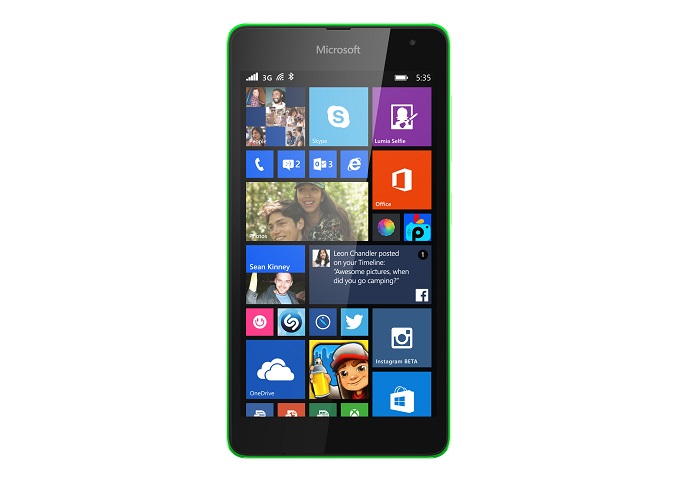 It has been a while since the official Nokia smartphone acquisition was completed, but to date all of the current Lumia phones have carried the Nokia brand alongside Lumia. Microsoft has been busy going through the Nokia apps over the last while, and updating them to be Lumia apps, and as of today, they have now done the same with the latest Lumia smartphone to be announced. The Microsoft Lumia 535 will be the first official Lumia smartphone to drop the Nokia name. With this being a 5xx series of Lumia, it is aimed at the value conscious end of the market.
Microsoft is calling the Lumia 535 their 5x5x5 proposition. The first of the fives is five free integrated Microsoft experiences with the company listing Skype, Office, Cortana, OneDrive, and Outlook. Astute readers will recognize that these free experiences are available on all Windows Phones though. The second five is a five megapixel front facing camera which is one of the latest trends in "Selfie" cameras, which is good to see regardless of if you take selfies or not. Horrible front facing cameras have been a staple of most smartphones for too long. The final five is a five inch display, but this time with a qHD (960x540) resolution IPS LCD.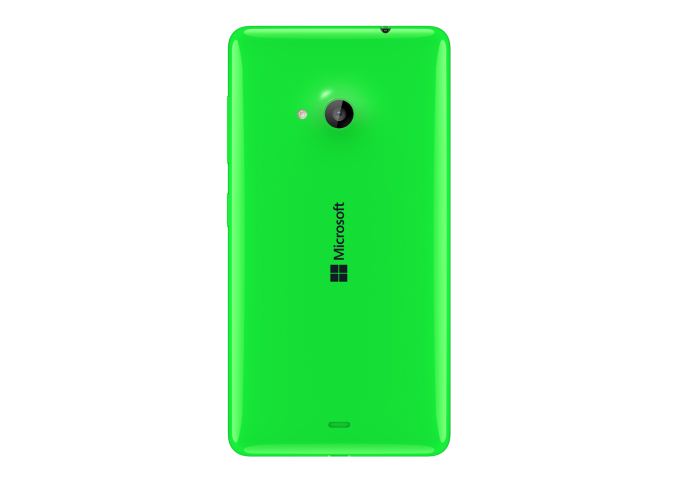 The press release does not include full specifications for the phone, but as a 5xx series we can expect it to be fairly low end parts. The 530 is powered by a Snapdragon 200 with quad-core Cortex A7 CPUs at 1.2 GHz, so it would make sense for the 535 to offer the same. The Lumia 530 is only equipped with 512 MB of RAM, but hopefully the 535 bumps that to 1 GB to allow the entire Windows Phone app store to be available to this device. Storage on the 530 is only 4 GB of internal NAND with microSD expansion up to an additional 128 GB which would fall in line with the low cost of this device.
Update: The full specifications are now available. It is indeed a quad-core Snapdragon 200, but included is 1 GB of memory and 8 GB of storage. The battery is a 1905 mAh 3.7 volt part, for just over 7 Wh of charge. Although the front camera is indeed 5 MP, it can only record FWVGA resolution video (848 x 480). For a complete listing of specifications please check here.
There will be two versions of the Lumia 535 with both a single SIM and dual SIM model to be made available. As is often the case with Lumia phones, there are colors aplenty with bright green, bright orange, white, dark grey, black, and making its return to the Lumia fold, cyan. The 535 will be available in "key markets" beginning in November, with an expected price of around 110 EUR before taxes and carrier subsidies.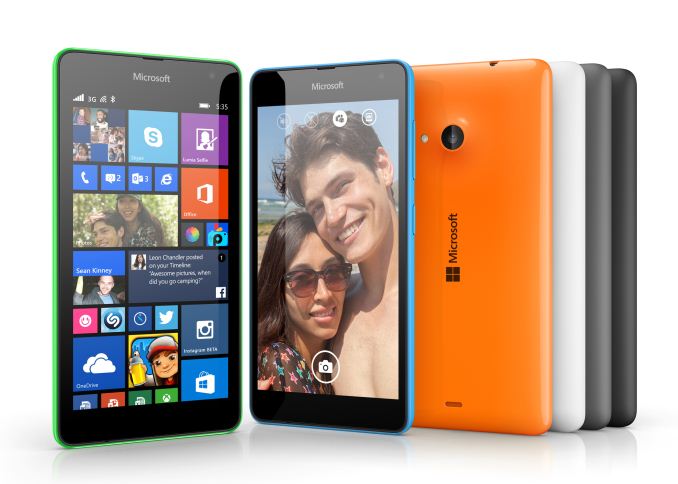 People looking for a new flagship Windows Phone from Microsoft will have to wait a bit longer. Microsoft has clearly targeted the low cost segment of the smartphone market, but they now have an almost dizzying array of devices for different regions. The Lumia 535 joins the already launched 530, 630, 635, 730, 735, and 830 as low cost devices. Not all devices are sold in all regions, and it appears Microsoft is happy to continue with the multitude of devices to serve different markets much like Nokia was doing.