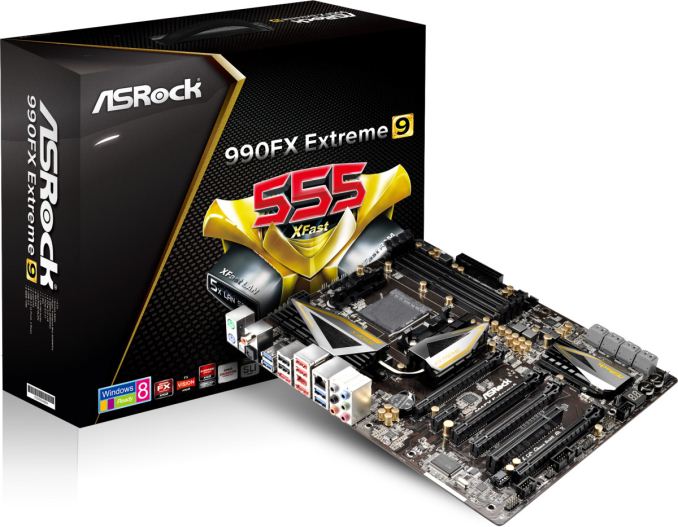 For socketed desktop systems, AMD is currently maintaining three significantly different processor lines. To add to the confusion, one is super low power (Kabini/AM1), one hasn't been updated since 2011 (AM3+), and the newest platform focuses most in integrated graphics and OpenCL rather than pure throughput (Kaveri/FM2+).
Due to this segmentation, while motherboard manufacturers have products in each market, the range ends up either quite old (AM3+) or lower cost (Kabini and Kaveri), leaving manufactures little room to differentiate. But ultimately, this is AMD's strategy: providing the lower cost systems and focusing on integrated graphics. While there is something to be said in transferring over GPU knowledge into integrated graphics, one might wonder why in terms of cannibalizing low end discrete card sales.
Nevertheless, we have reviewed each of the main chipsets on offer and can provide some recommendations. Many if these recommendations hold over from our last AMD guide.
FM2+ with A88X using Kaveri
GIGABYTE F2A88X-UP4 (Our Review, $100 - $15 Mail-In Rebate)
Starting with the Kaveri space, GIGABYTE's high-end offering is certainly notable. The A88X based UP4 gives the user PowIRStage ICs designed to be more efficient and handle higher current. This allows users to overclock their processors with potentially less power loss from the power delivery, and by overclocking you can improve the responsiveness and performance.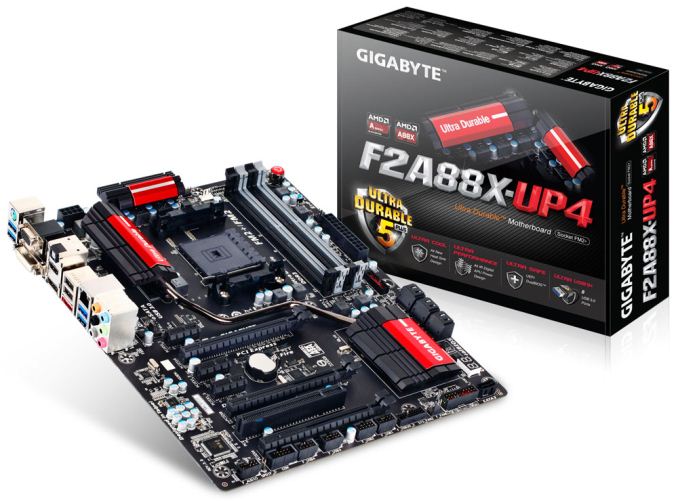 Aside from the power delivery and heatsinks, GIGABYTE includes the potential for three way Crossfire-X solutions, six SATA 6 Gbps ports, eight USB 3.0 ports, Realtek ALC892 audio and a Realtek NIC. For integrated graphics users, all four of the main video outputs are present, along with a power button and a two-digit debug readout. Legacy PCI users also get a slot as well.
We reviewed the GIGABYTE F2A88X-UP4 earlier this year with our other FM2+ coverage, and one of the big plus points was the 20W lower power consumption compared to some other A88X motherboards on the market. The power delivery subsystem also negated any potential for slowdowns with the early Kaveri ES SKUs. The BIOS and software at the time we reviewed it were still a bit behind, but the product overall comes in at a nice price.
ASUS A88X-Pro (Our Review, $129 - $25 MIR)
The only motherboard to receive an award from our limited FM2+ testing was the A88X-Pro from ASUS. The design was well received, the hardware was good, and the software/BIOS combination was updated to take into account AMD's APU line with this chipset combination.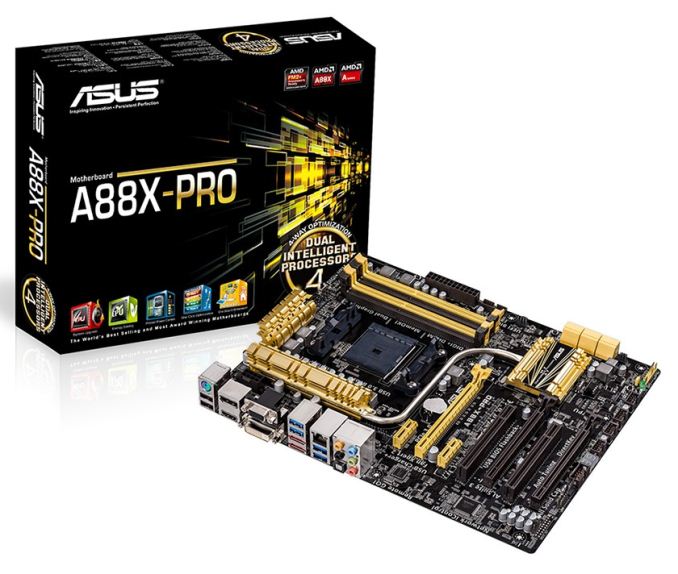 One of the biggest criticisms with the board is the price, arguing that it costs +80% more than some other A88X motherboards but offers no relative increase in performance. The A88X-Pro still gave a larger overclock, more memory space, more USB 3.0 and SATA ports, a better audio codec, and a better BIOS/software platform for that extra cost, negating that argument that focuses solely on one part of the puzzle. The A88X-Pro is still a high end FM2+ model, so it's perhaps not ideal for a cheap Kaveri build, but it is one of the best FM2+ motherboards out there.
Mini-ITX
ASRock FM2A88X-ITX+ (at ASRock, $89)
Where integrated graphics are concerned, smaller form factors come into play. This is despite AMDs socket being rather large and leaving little space for the chipset/FCH and other IO. ASRock's ITX offering did things a little differently by rotating the memory slots to be inline with the rear panel, potentially benefiting airflow similar similar to a server like environment.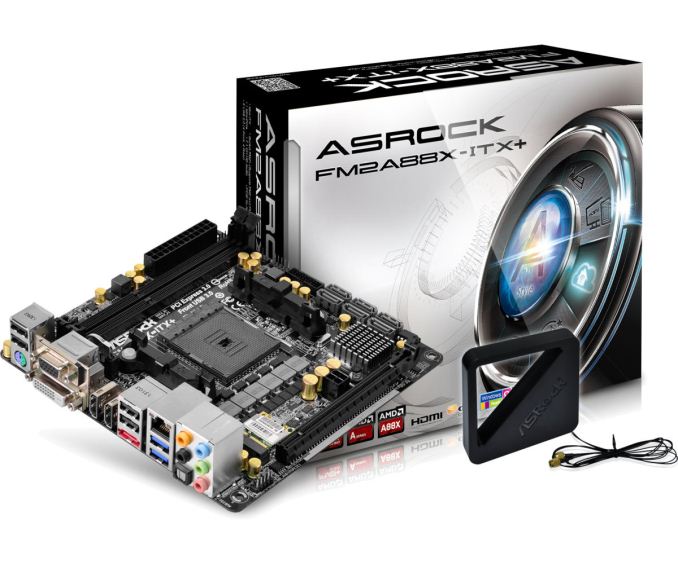 Due to the platform, this also afforded six SATA 6 Gbps ports ripe for RAID 5, ideal for a home storage machine without having to buy a RAID card or rely on software RAID.
FM2+ Gaming to Consider
Perhaps surprisingly, most of the FM2+ gaming motherboards were pretty late to market. Due to the low cost nature of the platform and many of the manufacturers wanting to retain their gaming ranges for the more premium crowd, it became difficult for the vendors to decide what should and should not be available. As a result we have only reviewed one of the gaming models, but currently there are several options from each of the vendors:
ASUS ROG Crossblade Ranger (at ASUS, $153)
GIGABYTE G1.Sniper A88X (at GIGABYTE, $97 - $20 MIR)
MSI A88X-G45 Gaming (Our Review, at MSI, $119 - $10 MIR)
ASRock FM2A88X Killer (at ASRock, $95)
AM3+
With the recent release of AMD's lower power 95W Vishera parts, such as the FX-8370E and the FX-8320E, along with the full consumer release of the 220W FX-9590 and FX-9370, there is another semi-resurgence of AMD focused systems of late. AMD aims for price/performance over Intel, and for a get-up-and-go system there can be something said for picking up a cheap AM3+. However, the motherboards fit into two main categories - those that can support the 220W CPUs, and those that cannot.
In general, the higher end the motherboard, the more likely 220W CPUs are supported. The best way to check would be with the motherboard manufacturer's website. Another factor to consider with AM3+ is the lack of PCIe 3.0 support. Some motherboards have additional PLX chips to enable GPU-to-GPU bandwidth in PCIe 3.0 mode, but the communication back to the CPU is still limited to PCIe 2.0.
Our big main AM3+ / 990FX review was back in April 2012, to put some perspective on how old this platform is. AM3+ motherboards cost from $25 to over $200, making any killer product completely price dependent. Since our 2012 review, we have reviewed one other 990FX board that ends up earning our recommendation:
ASRock 990FX Extreme9 for 220W CPUs (Our Review, $170)
The Extreme9 was the bedrock for all our recent re-testing of AMD's Vishera CPUs. It performed the job without issue, and as of late ASRock's BIOS and Software have been plus marks in my book.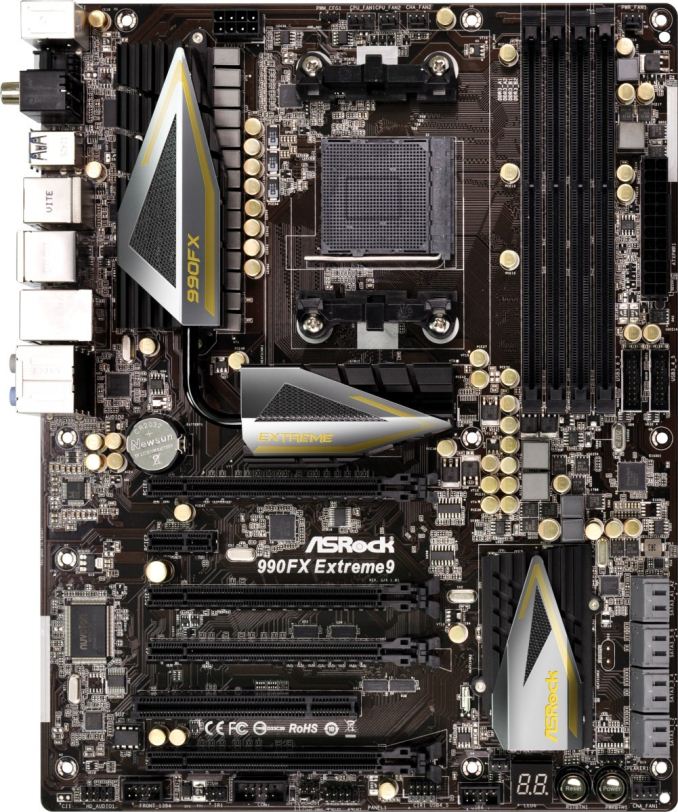 In terms of hardware the 990FX Extreme9 has eight SATA 6 Gbps ports, eight USB 3.0 ports (via Etron controllers), support for 3-way graphics setups, and substantial enough power delivery to even overclock the 220W CPUs. Networking is provided by an Intel NIC, with audio via a Realtek ALC898.
MSI 970 Gaming for non-220W CPUs (at MSI, $99)
While we haven't reviewed this motherboard, it is being mentioned here for being a crowd favorite. MSI migrated its gaming moniker and style back to the 970 chipset and it provides an avenue for AMD based gaming builds at a much cheaper price point.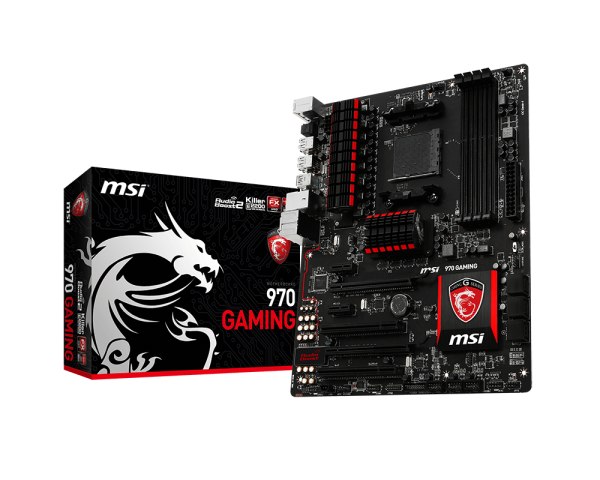 With it being based on the AMD 970+SB950 platform, we still get a full range of SATA ports however we are reduced back to one full PCIe 2.0 x16 slot and a PCIe 2.0 x4 slot, rather than an x8/x8 split. For single GPU usage with a focus on gaming, this motherboard offers an interesting data point.