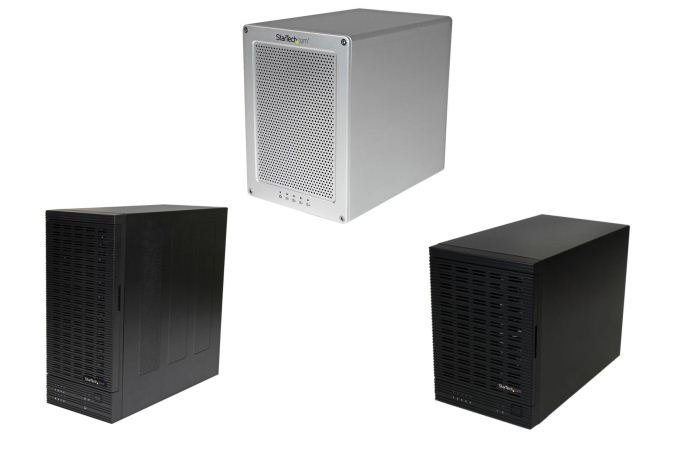 StarTech.com specializes in gadgets performing niche, yet handy functions. We have reviewed a few of their products such as the USB 3.0 to SATA IDE HDD docking station and portable SATA duplicator before. Technology-wise, there are plenty of similar options in the market. StarTech.com hopes to differentiate itself by acting as a one-stop shop for all these miscellaneous needs.
Since the beginning of the year, StarTech.com has launched two interesting products in the DAS (direct-attached storage) space. On the high-end side, we have the S354SMTB2R, a 4-bay Thunderbolt 2 enclosure. It comes with a hardware RAID engine (only JBOD, RAID 0, RAID 1 and RAID 10 - no RAID 5 or RAID 6) and brings with it all the advantages of Thunderbolt 2 (including daisy chaining).
On the chipset side, we have the Marvell 88SE9230 bridge chip, enabling four SATA 6 Gbps ports over two PCIe 2.0 lanes. It also enables the hardware RAID functionality. The PCIe side obviously talks to the Intel Thunderbolt 2 controller.
One of the interesting aspects of the StarTech.com Thunderbolt 2 enclosure is the availability of HyperDuo (thanks to the usage of the Marvell bridge chip). This is a feature that automates SSD / HDD tiering (further details available in Marvell's technology brief - PDF). The benefits of Thunderbolt 2 in DAS units are brought out mainly when SSDs are used, and this type of transparent tiering can enable users to easily gain SSD-like performance while retaining HDD-like capacity at reasonable price points.
StarTech.com has priced the S354SMTB2R at $693 ($543 on Amazon). Other options for diskless 4-bay Thunderbolt 2 solutions are listed below.
CalDigit, G-Technology and Promise have 4-bay Thunderbolt 2 solutions too, but they don't seem to be available in diskless configurations.
A few days back, the HDD enclosures lineup was also expanded. The last time we looked at a multi-bay external enclosure was in our review of the Mediasonic Probox. A couple of years have passed since we checked out the JMicron JMB321 port-multiplier (PDF) coupled with a JSM 539 SATA to USB 3.0 bridge. These JMicron parts have been discontinued and it is now time for a new platform for economical multi-bay direct-attached storage enclosures.
StarTech.com has introduced a $315 5-bay (S355BU33ERM) and a $392 8-bay (S358BU33ERM) enclosure. These units support both 3.5" and 2.5" drives. Hot-swapping is also supported. Similar to the Mediasonic Probox, they come with both eSATA and USB 3.0 host connections. UASP is now supported, thanks to the usage of the JMicron JMB575M SATA port multiplier / selector (PDF) and JMS567 SATA to USB 3.0 bridge controller (PDF). The 5-bay unit comes with a 80 mm cooling fan, while the 8-bay unit has a 120 mm cooling fan. There is no hardware RAID support.
The units seem to be much cheaper on Amazon, with the 8-bay coming in at $300 and the 5-bay coming in at $245. The number of options for 5-bay and 8-bay enclosures seem to be numerous compared to that for Thunderbolt 2, so we won't go into the trouble of listing everything here. The key takeaway from the announcement is that we now have high bay-count USB 3.0 enclosures with UASP support.
Source: StarTech.com