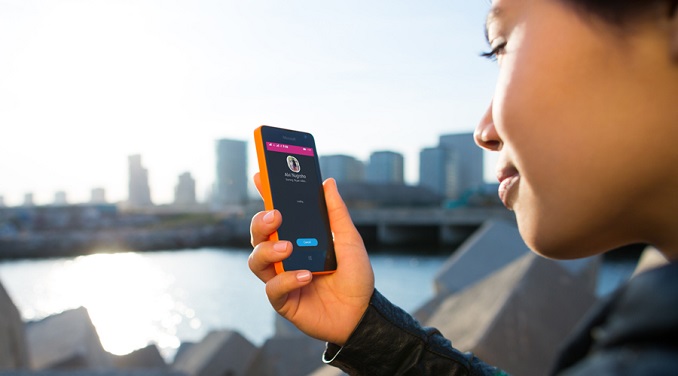 To say that the Lumia brand is diluted with low cost smartphones would be a bit of an understatement. However, Microsoft has found a way to lower the barrier to entry even further with the launch of the Dual-SIM Lumia 430 model today.
It is all fairly pedestrian in the specifications department, as we will see below, but the real story is just how inexpensive this device is. Pricing will vary by market, but Microsoft is estimating the Lumia 430 Dual-SIM smartphone to be priced around $70 USD before any subsidies are applied.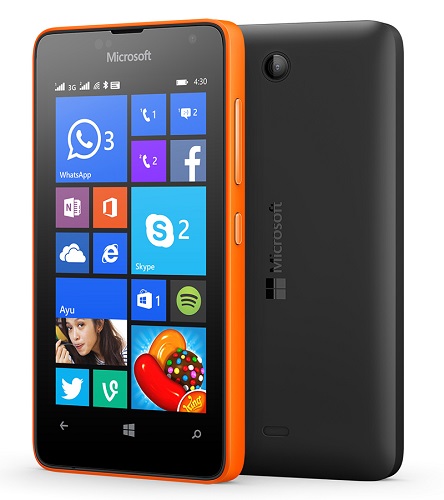 To hit these kinds of price points, some sacrifices have to be made of course, but all in all it is still a typical low end Lumia. Before Microsoft bought the Lumia line from Nokia, we had similar low end phones launched that would be missing key features. The Lumia 635 is a great example of this. Although it was a decent device, the lack of a proximity sensor and ambient light sensor made it difficult to use in real life, and the limited 512 MB of RAM meant it could not access the entire Windows Phone catalog of apps.
Microsoft has taken a different approach, and all of the low end devices that they have launched with the Microsoft logo have included the standard features needed to enjoy a smartphone experience, and the $70 Lumia 430 is no exception. It comes with the Qualcomm Snapdragon 200 SoC, with dual 1.2 GHz Cortex A7 cores, so it will not be the speediest device ever launched, but Windows Phone has always been good on low end devices and avoids the stutter and chop which has plagued Android. RAM is a healthy 1 GB, which means that the Lumia 430 does have access to the entire Windows Phone store. Other key features such as the ambient light and proximity sensor are included, even for this budget price, so obvious features such as automatic brightness will work.
Speaking of brightness, the LCD will also likely be a very low end model, but it is a 4" 800x480 LCD, although it is not listed whether this is an IPS display (hopefully it is) but the display enhancement technologies such as ClearBlack are not available. I have also found with the low end Lumia phones that the display coating is also either very thin or not available, and this could continue that trend due to the price.
Storage is also something that Microsoft has bumped up, with Nokia opting for 4 GB on the very low end models, but Microsoft has equipped even this low end device with 8 GB of internal NAND. MicroSD support will give an additional 128 GB more space, and Windows Phone supports MicroSD very well so this will not be an issue.
The battery is just a 1500 mAh, with the older 3.7 V chemistry, which works out to just 5.55 Wh of capacity.
| | |
| --- | --- |
| | Nokia Lumia 430 |
| SoC | MSM8212 dual-core 1.2 GHz Snapdragon 200 |
| RAM/NAND | 1 GB RAM, 8 GB NAND + microSD |
| Display | 4.0" 800x480 LCD |
| Network | GSM/GPRS/EDGE/UMTS/HSPA+ up to 42.2 Mbps |
| Dimensions | 120.5 x 63.2 x 10.6 (mm) |
| Weight | 127.9 grams |
| Camera | 2MP rear camera Fixed Focus 1/5" Sensor No Flash, VGA FFC |
| Battery | 1500 mAh (5.55 Whr) |
| OS | Windows Phone 8.1 with Denim Firmware |
| Connectivity | 802.11 b/g/n + BT 4.0, USB2.0, MPT, DLNA, FM Radio |
| Location Technologies | Cellular and Wi-Fi network positioning, A-GPS, A-GLONASS |
| SIM Size | Smart Dual MicroSIM |
The camera is the main area where costs were saved. The Lumia 430 comes with just a 2 MP fixed focus camera on the rear, however the front camera is the same resolution as the $1299 Apple MacBook, with a 0.3 MP VGA sensor which is clearly for cost savings, and will not be very good for anything other than the occasional video chat.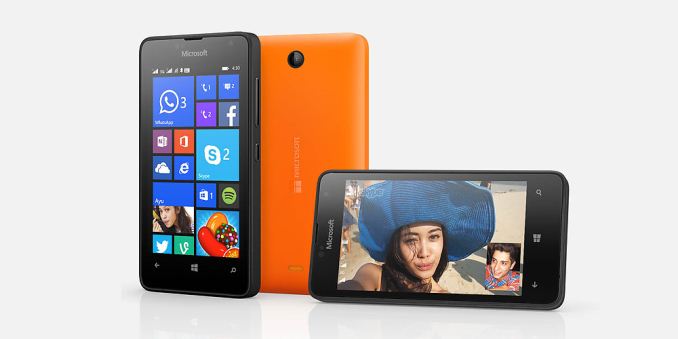 Microsoft's strategy seems to be to release a new low end smartphone every couple of weeks, and even as someone who follows the space it is getting awfully confusing. However most of these are aimed at specific markets, and the Lumia 430 is no exception. The Lumia 430 will be available in April in the Asia-Pacific, India, the Middle East, Africa, Russia, Kazakhstan, Ukraine and Belarus.
Source: Lumia Conversations