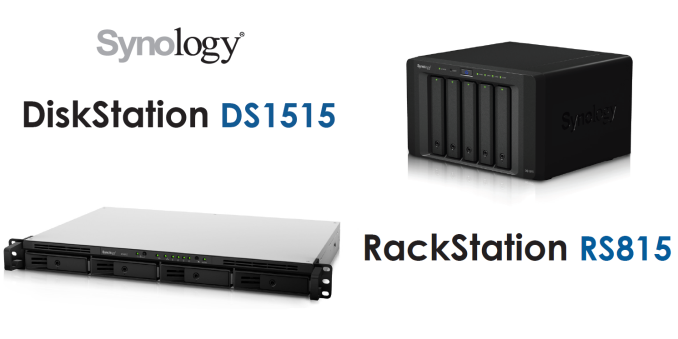 Synology introduced their x15+ series in the second half of 2014. The models were all based on the Intel Rangeley platform (x86). It is now time for a refresh of the Value Series using ARM-based SoCs - the x15 models. There are two units being introduced today, the 5-bay DS1515 in the tower form factor (MSRP: $650) and the 4-bay RS815 in a new short-depth rackmount form factor (MSRP: $600).
DS1515

Based on the Annapurna Labs Alpine AL-314 quad-core Cortex-A15 SoC, the unit has four GbE LAN ports, two USB 3.0 and two eSATA ports. The eSATA ports can be used to connect up to two DX513 / DX213 expansion units. This can provide up to a maximum of 10 bays additional to the five on the main unit. The DS1515 comes with 2GB of RAM.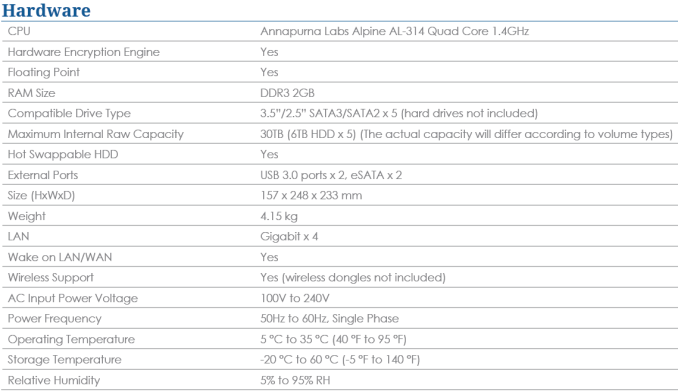 The unit comes with Synology's widely respected DiskStation Manager DSM 5.2 OS supporting a wide variety of networking protocols, applications and add-on packages. The AL-314 SoC comes with hardware encryption engines and a dedicated floating point unit. The presence of four LAN ports help in setting up a high-performance high-availability cluster. Claimed throughput numbers indicate up to 403.7 MBps reads and 421.8 MBps writes.
RS815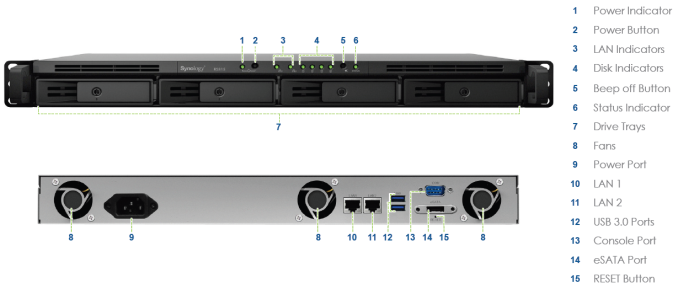 The RS815 solution is internally the same as the RS814 introduced last year. Carrying the same Marvell ARMADA XP MV78230 that we reviewed a couple of years back in the LenovoEMC ix4-300d, the performance numbers come in at 216.7 MBps reads and 121.8 MBps writes. The eSATA port allows the connection of a RX415 expansion unit. This can provide up to a maximum of 4 bays additional to the four on the main unit.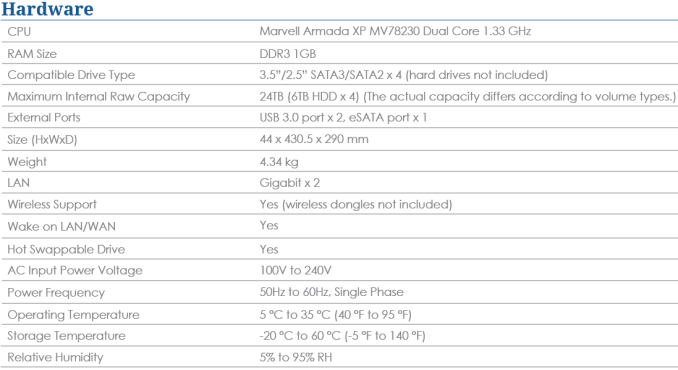 The important update is the short-depth chassis design. The RS815 is only 29 cm deep, compared to the RS814's 46 cm. This allows for denser deployments and compatibility with industrial server environments.
It is refreshing to see Synology continuing to invest in ARM-based models for the Value Series. While these are not true 64-bit solutions yet, they will ensure that Intel x86-based solutions are not the only game in town for high-performance NAS units. The presence of four GbE ports on the DS1515 brings a host of exciting use-cases to the table. The Alpine platform might just about cut the grade for 10G NAS units, but it should be an excellent choice for NAS units with GbE LAN ports. The RS815, on the other hand, takes a tried and tested platform and fits it in a new chassis to expand its application areas.
Source: Synology