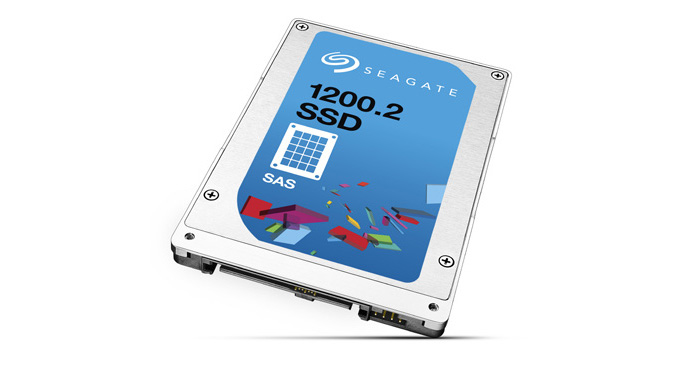 Today Seagate and Micron are jointly announcing their latest generation of Serial Attached SCSI (SAS) MLC SSDs for enterprise use. The new families of drives are designed to significantly broaden the Enterprise SSD lineup of both companies with a wider range of capacities, features, and performance options, for with up to 36 new drive models altogether.
Making today's announcement particularly different (and wordy) is the fact that both companies are announcing the same drives under their own brands. Developed in a joint partnership between the two companies, Seagate and Micron have developed a single line of drives to be sold under different brands by each manufacturer for the purpose of making the drives available from multiple vendors for second-sourcing needs. For Seagate these drives will be known as the 1200.2 series, and will total 36 drives altogether. Meanwhile for Micron these drives will be known as the S600DC series.
We'll start things off with Seagate, who has released the most information on these new drives. In Seagate's 1200.2 lineup the drives are available in four different tiers that trade cost against the higher endurance and performance, enabled through greater over-provisioning. The "High Endurance" line (rated for 25 drive writes per day) is tuned for write-intensive workloads and lots of random I/O. The "Mainstream Endurance" line (10 DWPD) is intended for a workload with a 70/30 mix of reads and writes, while the "Light Endurance" (3 DWPD) and "Scalable Endurance" (1 DWPD) are for very heavily read-intensive workloads with mostly sequential I/O.
Capacity options vary between the different tiers: the HE drives are available in only two smaller sizes (200GB and 400GB), the SE drives in two large sizes (1920GB and 3840GB), and the middle two tiers offer more choices between those extremes. As is often the case, the smallest drives in each tier have somewhat lower performance ratings, which causes the 200GB HE drive to be rated a bit slower than the three largest ME drives. All models are using the same platform - that is the same controller and NAND - and Seagate isn't binning the Micron MLC flash chips between tiers, so all of the performance differences stem from the differences in firmware configuration and the amount of over-provisioning.
Seagate 1200.2 SAS SSD specifications
Endurance Tier
HE
ME
LE
SE
Capacities (GB)
200, 400
400, 800, 1600, 3200
400, 480, 800, 960, 1600, 1920, 3200, 3840
1920, 3840
Sequential Read
1800 MB/s
1800 MB/s
1750 MB/s
1700 MB/s
Sequential Write
600-800 MB/s
600-800 MB/s
390-750 MB/s
500 MB/s
4kB Random Read
205k-210k IOPS
205k-210k IOPS
170k-190k IOPS
140k IOPS
4kB Random Write
70k IOPS
66k-70k IOPS
35k IOPS
15k IOPS
Average latency
115 µs
Endurance
25 DWPD
10 DWPD
3 DWPD
1 DWPD
Warranty
5 years
All drives use a dual-channel 12Gbps SAS connection, and these are the first 12Gbps drives that can use the two channels in tandem for higher performance rather than fault tolerance. This enables peak sequential read speeds of 1700 MB/s to 1800 MB/s, compared to the single-channel limit of 1200 MB/s. Peak 4kB random read speeds are also great looking, ranging from 140,000 IOPS to 210,000 IOPS. Advertised write speeds are nothing special, but the SAS interface does allow almost all of the drives to exceed the capabilities of 6Gbps SATA for sequential writes.
Rounding out the enterprise feature set, every drive is available in a self-encrypting model, and the ME models are also offered in variants with FIPS 140-2 validated encryption. The drives have full power-loss protection and a 5 year warranty. All models use the 2.5" form factor. Drives under 1TB are 7mm thick while the larger models are 15mm thick.
Meanwhile for the Micron S600DC branded release of these drives, we don't have quite as much information for today's announcement. We know that Micron will be releasing three different models of the drive as the S610DC, the S630DC, and the S650DC. However we don't know which models are the higher endurance models and which are the higher capacity models.
Overall, the fact that Seagate and Micron are entering into a second-sourcing partnership on SSDs here is an interesting one, and one that makes a lot of sense given the desire for multiple sources from enterprise customers. And to be clear, this is true second-sourcing for as much as Seagate and Micron can achieve it, making it more than just both companies selling the drives under their own brands. In order to ensure a second-source supply, the two companies are using second-sourcing wherever practical in their supply chain and have geographically-diverse stockpiles for the important components that are only available from a single source, so they are confident they can offer a reliable ongoing supply.
Finally, we're told that the drives will be on display this month, with Seagate planning on publicly demonstrating the 1200.2 SSD next week at Flash Memory Summit. As for availability, Seagate tells us that the 1200.2 series will be shipping to channel partners starting this month.
Source: Seagate