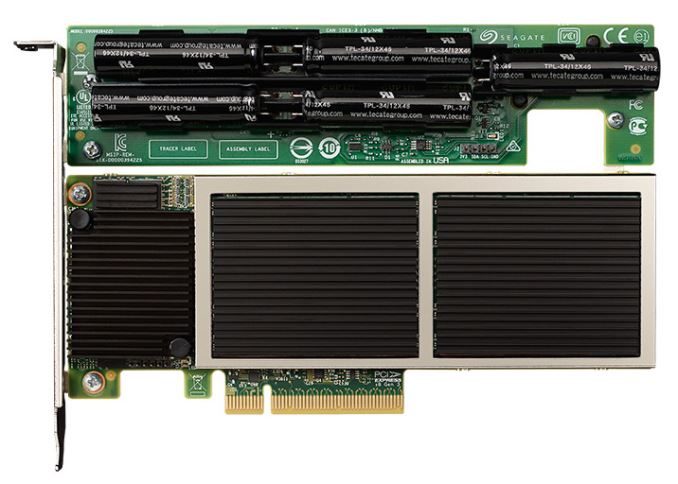 After acquiring SSD controller designer SandForce, LSI took the quick route towards creating high-performance PCIe SSDs by putting multiple SandForce controllers and an LSI RAID controller on a single expansion card, branding the resulting product as the Nytro. This Nytro product line was transferred to Seagate along with the SandForce division in May 2014, and it's now getting both a refresh and a major expansion.
The new Nytro XP6500 succeeds the Nytro XP6302 and offers improved write latency and improved write endurance. Write throughput suffers slightly, but the XP6302's original performance specifications were inflated by testing at 28% over-provisioning rather than the default of 17% that is implied by the listed capacities. Meanwhile the XP6500 4TB model is listed as optimized for 8kB rather than 4kB random accesses, so its IOPS numbers aren't directly comparable to the others.
Seagate Nytro XP6000 Series
Drive
XP6500 4TB
XP6500 1.5TB
XP6302
Usable capacity
3.4TB
1.3TB
1.3TB, 1.75TB, 3.5TB
Interface
PCIe 3.0 x8
Sequential read
4 GB/s
Sequential write
2.2 GB/s
1.5 GB/s
2.3 GB/s
Random read IOPS
275K (8KB)
300K (4KB)
296K (4KB)
Random write IOPS
85K (8KB)
100K (4KB)
148K (4KB)
Write latency
14µs
33µs
Write endurance
20 PB
8 PB
6.6-11.7 PB
Required airflow
550 LFM
300 LFM
Peak power consumption isn't listed but is likely significantly increased over the XP6302's 39W, based on the increase in required airflow from 300LFM to 550LFM for the same operating temperature range. The Nytro XP6500 supports a supercapacitor bank to protect data in its large (2-4GB) DRAM cache. The XP6500 is available either as a full-height expansion card with built-in supercapacitors, or as a half-height card with an optional tethered supercapacitor module. Seagate has announced immediate availability of the Nytro XP6500.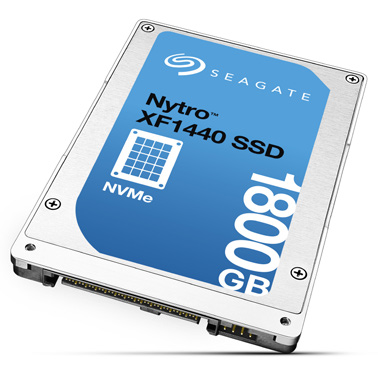 Expanding the Nytro brand into new territory are the XF1440 and XM1440 NVMe drives, in 2.5" U.2 (SFF-8639) and M.2 22110 form factors respectively. They're split in to two tiers: "Endurance Optimized" (3 drive writes per day) and "Capacity Optimized" (0.3 DWPD).
Seagate Nytro XF1440
Drive
Endurance Optimized
Capacity Optimized
Usable capacity
400 GB, 800 GB, 1600 GB
480 GB, 960 GB, 1800 GB
Interface
PCIe 3.0 x4 SFF-8639
Sequential read
2700 MB/s
Sequential write
600-1200 MB/s
Random read IOPS
200K
Random write IOPS
34K
3K–7K
Write endurance
3 DWPD
0.3 DWPD
Warranty
5 years
Peak power
12.5 W
Average read/write power
9 W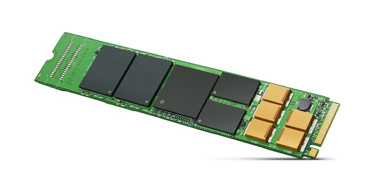 Performance specifications for the Nytro XM1440 weren't available, and we aren't assuming that they will be the same as for the Nytro XF1440. The XF is listed as using eMLC (Enterprise MLC) but the XM is using MLC+, a term often used to refer to higher-binned consumer-grade MLC. Maximum power consumption is significantly lower for the XM, and the XM will be released later (early 2016, when the XF1440 will ship at the end of October), which suggests that there may also be controller differences.
Seagate Nytro XM1440
Drive
Endurance Optimized
Capacity Optimized
Usable capacity
400 GB, 800 GB
480 GB, 960 GB
Interface
M.2 PCIe 3.0 x4
Write endurance
3 DWPD
0.3 DWPD
Warranty
5 years
Peak power
8.25 W
Average read/write power
7 W
Source: Seagate