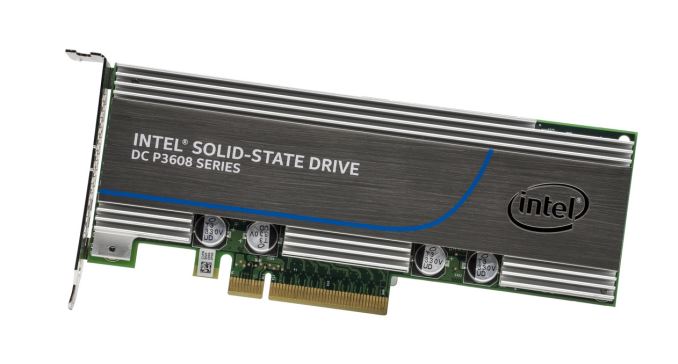 Intel is introducing a new family of enterprise PCIe SSDs with the aim of outperforming their existing DC P3600 series and even beating the DC P3700 series in many metrics. To do this, they've essentially put two P3600 SSDs on to one expansion card and widened the interface to 8 lanes of PCIe 3.0. While this does come across as a bit of a quick and dirty solution, it is a very straightforward way for Intel to deliver higher performance, albeit at the cost of sharply increased power consumption.
The SSD DC P3608 appears to the system as two individual NVMe drives behind a PLX PCIe switch chip. This means that extracting full performance from this card will require software RAID-0 or some similar software load-balancing solution. A new version of Intel's Rapid Storage Toolkit for Enterprise (RSTe) drivers will be providing this capability. The overhead of the PCIe switch and managing two independent controllers means that the P3608 cannot attain an oughtright doubling of the P3600's performance.
The inclusion of two SSD controllers and a PCIe switch chip also drives idle power consumption up to 11.5W and makes a 2.5" form factor impossible, so the P3608 series will only be available as a half-height half-length PCIe expansion card. Intel's not too worried about the form factor constraint, because they're now able to make full use of the 8-lane PCIe slots that are the most common in the sort of servers these drives are typically used in.
The SSD DC P3608 is available in three capacities, with the smallest 1.6TB configuration having more overprovisioning to boost random write speeds. Active power consumption varies with capacity, but all models support a power governor setting to limit power consumption to 35W or 25W instead of the worst-case 40W. Intel has provided us with a 1.6TB SSD DC P3608, so a full review is on its way.
Intel Enterprise PCIe SSDs
P3608 4TB
P3608 3.2TB
P3608 1.6TB
P3700 1.6TB
P3600 1.6TB
Capacity
4TB
3.2TB
1.6TB
1.6TB
1.6TB
4kB Random Read (IOPS)
850,000
850,000
850,000
450,000
450,000
4kB Random Write (IOPS)
50,000
80,000
150,000
150,000
56,000
Sequential Read (MB/s)
5,000
4,500
5,000
2,800
2,600
Sequential Write (MB/s)
3,000
2,600
2,000
1,900
1,600
Idle Power (W)
11.5
11.5
11.5
4
4
Read Power (W)
20
18
18
10
9
Write Power (W)
40
35
30
22
20
Form Factor
PCIe 3.0 x8 HHHL
PCIe 3.0 x4 HHHL or 2.5" 15mm
Endurance Rating
3 DWPD
15 DWPD
3 DWPD
Warranty
5 years
Source: Intel