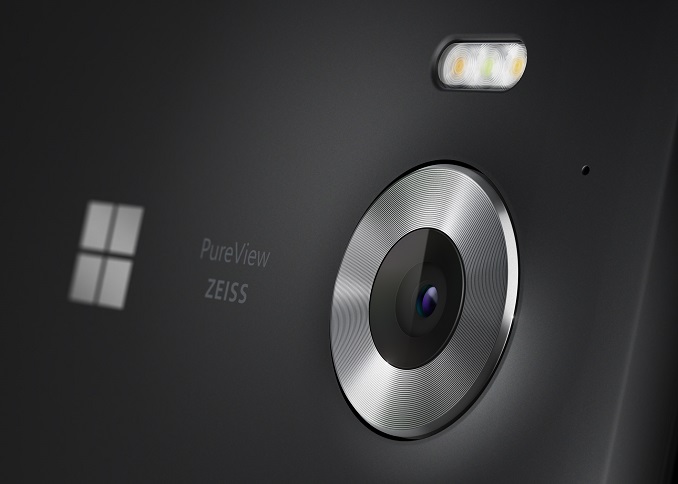 Today Microsoft officially revealed three phones which have been showing up in leaks for the past while. Leaks always seem to take away some of the wow factor at a launch, but the latest Windows 10 Mobile phones look to be a solid offering from the Redmond group in a division which has seen a lot of disruption over the last year or so.
Let's start with the flagship phones. The Lumia division has not had a flagship phone since the Lumia 930 launched as the Lumia Icon back in February of 2014. That is an eternity in the smartphone space, and considering it was not exactly bleeding edge at the time, it has quickly fallen behind some of the other players.
Lumias
Lumia 550
Lumia 950
Lumia 950XL
SoC
Qualcomm Snapdragon 210 quad-core A7
Qualcomm Snapdragon 808 2xA57+4xA53
Qualcomm Snapdragon 810 4xA57+4xA53
Memory
unknown
Display
4.7" 1280x720 LCD with Glance
5.2" 2560x1440 OLED with Glance
5.7" 2560x1440 OLED with Glance
Storage
unknown
32 GB plus microSD
Camera
5MP Rear, 2MP Front
20MP w/OIS Rear, Triple LED flash, 5MP Front
Price
$139
$549
$649
Microsoft is launching two models of their flagship to suit different peoples wants and needs. First, the Lumia 950 is a 5.2-inch device with a 2560x1440 OLED display. It has a Qualcomm Snapdragon 808 processor, 32 GB of storage, and a 20 MP camera. The Lumia 950XL is its larger cousin, and has a 5.7-inch display with the same 2560x1440 resolution, and it is also OLED. The main difference between the two other than the display size is the 950XL moves up to the Snapdragon 810.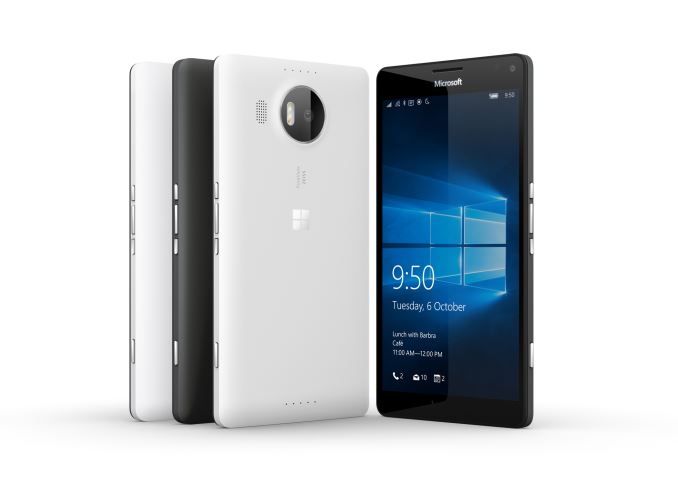 Lumia 950XL
One thing that I have been wondering for a while is whether or not Windows 10 Mobile would launch with ARM 64-bit support, and the answer is unfortunately no. The processors are of course 64-bit capable but Windows 10 Mobile has decided to target 32-bit support.
With that bad news out of the way, the phones themselves are solid offerings and should have plenty of performance compared to the current generation of Windows devices. Microsoft was keen to show off their Continuum experience, which allows the phone to be connected to a display and used as a Windows 10 desktop, albeit with only access to Universal Windows Apps. The demo was good though and they showed off the app loading and multitasking capabilities very well.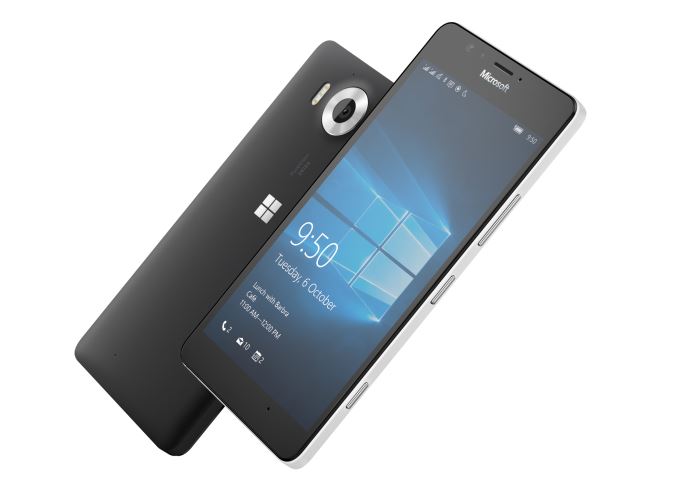 Lumia 950
The 950 and 950XL feature a removable back, so you can get some interesting rear colors and material choices. Microsoft had some leather backs on display that looked and felt great, and there were several colors to choose from as well.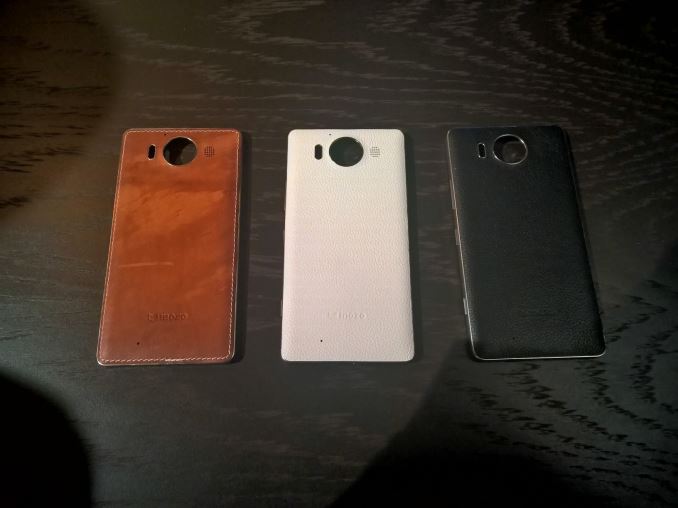 The camera has generally been a strong point of the Lumia line, and the 20 MP model has the same number of pixels as the Lumia 930 but is backed by a 5th generation optical image stabilization. Although there was no chance to test the low light capabilities, we hope to have more time to test these out soon.
One thing that has made its way back is the Glance Screen, which leverages the OLED to allow the Lumia to display important information on the display even when the phone is turned off. This is a fantastic feature that I have used on several phones, and having a phone without it is a burden after you have used it.
They will also feature Windows Hello facial recognition to unlock the phone. The demo took a couple of seconds which is too long, but it may have been non-ideal lighting. It needs to be as easy as fingerprint unlock to gain traction so this will also need to be tested further.
The Lumia 950 and 950XL will go on sale in November at $549 and $649 respectively.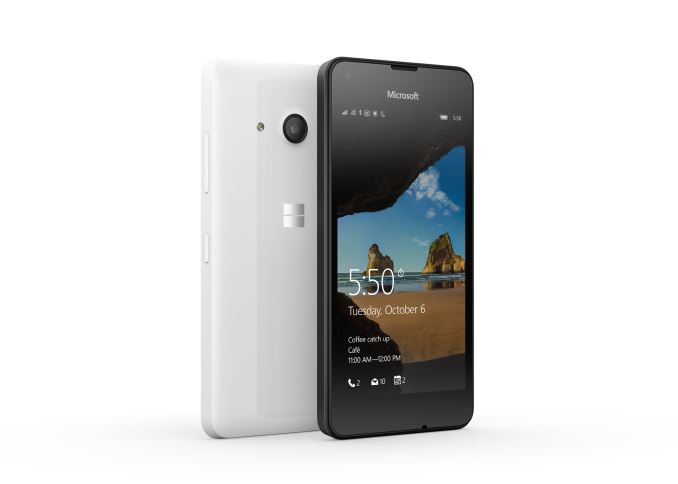 The other Lumia announced was a much less expensive option. The Lumia 550 is a new low cost model featuring the Snapdragon 210 quad-core processor and LTE. The camera is just 5 MP but the 4.7-inch 1280x720 LCD display also features Glance. The 550 is decidedly less exciting, but the price is just $139 with it arriving in December.