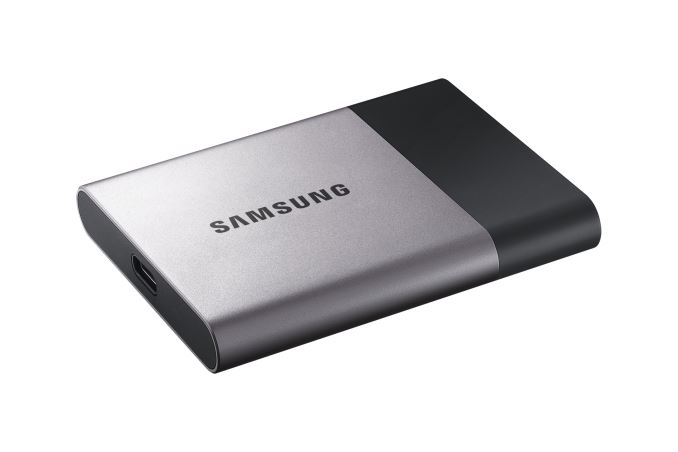 In recent years a new category of portable storage devices has emerged. Based on the same controllers and flash used in 2.5" SATA SSDs, portable SSDs offer much higher performance and capacities than typical of USB thumb drives. The use of SATA to USB3 bridge chips allows portable SSDs to be used with almost any devices, as opposed to relying on the rare eSATA standard. Most portable SSDs also support the USB Attached SCSI Protocol (UASP) to cut down on the overhead relative to a direct SATA connection. Portable SSDs usually can't match the performance of their SATA counterparts, but they are closer to the native performance than to normal thumb drive speeds.
At last year's CES, Samsung introduced their Portable SSD T1, their first foray into this market. This year they've got a successor, the Portable SSD T3. Externally, the biggest difference is that the T3 switches to a metal case from the black plastic of the T1. This doubles the overall mass, bringing it up to 51 grams. The T3 also adopts the reversible Type C USB port, replacing the T1's micro USB 3 Type B port. The T3 includes a Type C to Type A cable.
We don't have much information on what's changed internally. The T1 used the same controller and TLC 3D NAND as the 850 EVO. After the launch of the T1, the 850 EVO and Pro product lines gained 2TB models thanks to Samsung's newer MHX controller, which expanded the amount of RAM that could be accessed and allowed the drives to manage twice as much flash. The Portable SSD T3 introduces a 2TB option so we're pretty sure it is also adopting the MHX controller for at least that capacity. Like the 850 EVO and Pro, the smaller capacities may be using the earlier MEX and MGX controllers, but that shouldn't hinder their performance.
The Portable SSD T3 will be available in early March. Pricing has not been announced.
Source: Samsung