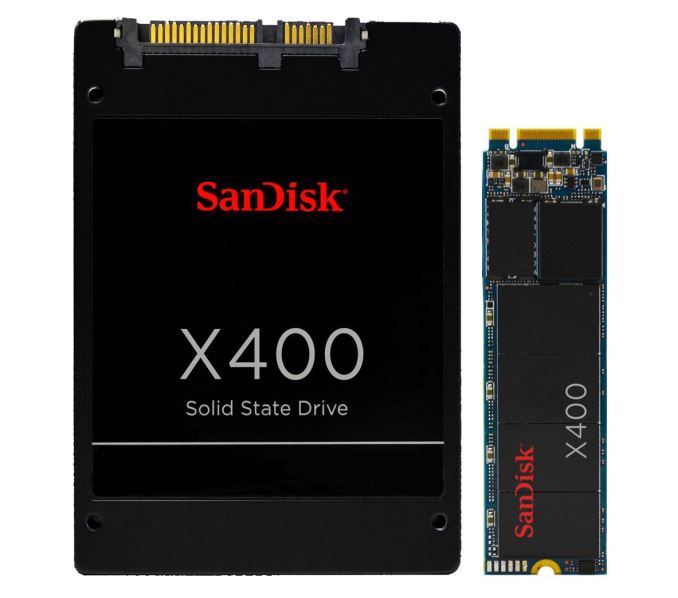 As CES gets underway, SanDisk is announcing the X400 SSD as the successor to the X300 and X300s and as the higher-performance counterpart to the Z400s. The new X400 will be the flagship of SanDisk's line of SATA and M.2 SATA SSDs for OEMs, though by the standards of consumer SSDs sold at retail it wouldn't quite be a high-end SATA drive.
The X300s was the Self-Encrypting Drive variant of the X300, but for the X400 SanDisk is unifying the two by making encryption a standard feature, pending a firmware update due in April to provide full TCG Opal support. The X400 improves performance in most areas, though not by any huge margins. They're dropping the smallest capacities, leaving 128GB as the starting point, and mSATA is no longer an option. Both changes reflect a lack demand for outdated drive configurations in new product designs. Like the X300, the X400 uses TLC NAND flash and relies on SLC-mode write caching to provide competitive write speeds.
SanDisk OEM Client SSD Comparison
Drive
X400
Z400s
X300
Capacities
128GB, 256GB, 512GB, 1TB
32GB, 64GB, 128GB, 256GB
64GB, 128GB, 256GB, 512GB, 1TB (2.5" only)
Sequential Read
545 MB/s
546 MB/s
530 MB/s
Sequential Write
520 MB/s
342 MB/s
470 MB/s
Random Read IOPS
95k
37k
98k
Random Write IOPS
75k
69k
70k
Form Factors
2.5", M.2 2280
2.5", mSATA, M.2 2242, M.2 2280
2.5", mSATA, M.2 2280
Warranty
5 years
5 years
3 years
The X400 adds a 1TB M.2 option that SanDisk claims is the first single-sided 1TB M.2 drive. The X400 also adds LDPC ECC to the mix, which probably helped SanDisk increase the warranty period to 5 years.
The SanDisk X400 was sampling to OEMs as of late last year and is now available to OEMs and system integrators in volume.
Source: SanDisk